The Genealogy of Dwayne Meisner and Francine Williams
Volunteer to Transcribe
Thank you for interest, and for wanting to help! To volunteer, simply click , which will open your email program. If that link does not open your mail program, type the email address in the image:

.You can then tell me which area you want to work on, which will be posted on this page to avoid duplication. Once I have received this, and replied to you, you can download the blank template , and start transcribing. In some cases you may find it helpful to use Automated Genealogy to see the 1851, 1901 & 1911 transcriptions. A lot of the families are the same, so it will help you decipher the poor penmanship... Or you can check NSVHS for birth/marriage/death records. You will also need the link to the images at Ancestry. You do not have to join Ancestry to view the images, and it is free if you are in Canada. For elsewhere in the world, you will need a subscription. Once you click on the "Start Browsing" button, the sign up form will be shown, if you have not already signed up.
Why are we doing this? Ancestry.ca has provided the images for FREE for a period of three (3) years. But, you can only view the images if you live in Canada, or if you have a World Deluxe Subscription. Ancestry has indexed all the images, but their efforts leave a lot to be desired. The quality of the index is usually not the best, because of where it was transcribed, and Ancestry relies on their users to make corrections. Our indexing is done by folks just like you that are familiar with the people and the names associated with them in the Province. The indexes are proofread as well to catch as many errors as possible. The most important thing is that our index is freely accessible from anywhere in the world, simply by becoming a member of this site.


Please transcribe the district into one complete spreadsheet page. Please make sure the surname column is complete filled in, with no blanks like the image. This is required for the search engine to find the names. Also, use "Widowed" for the "W" marital status, and all enumerators make the mistake of calling people from Scotland "Scotch". This should be "Scottish". If you are transcibing a city or town, please transcribe the street address or location when applicable. Transcribe all of each area into one template and save it with the name of the place. You can use this website to help figure out the street names for the towns and cities: http://www.viewpoint.ca/show. People are having problems entering ages when the age is less than 1, for example 2/12. Excel automatically converts the input to a date, which we do not want. The solution for this is to type an apostrophe first, then the 2/12. Below is a sample image of what the finished transcription should look like. You can click on the image to download the template as well.
We are not just adding census records for Nova Scotia, but also census records from other provinces as well. Also other databases such as Birth/Marriage/Death, Obituaries, etc. or anything that is relevant to Nova Scotia. If you have anything you would like to donate, or would like to volunteer to transcribe, please let me know! Scroll to the bottom of the page to see what we have added lately.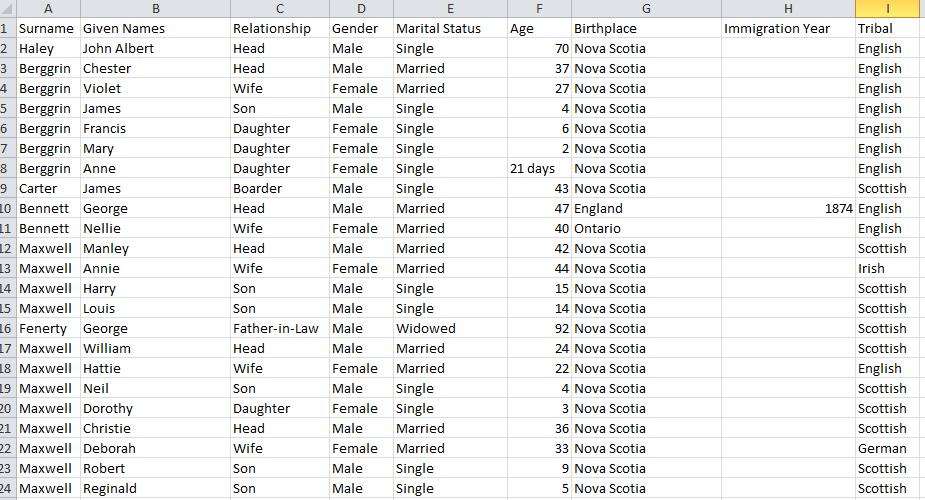 All the BMD records from Kim Stevens have been added to the site. See the BMD map here.

1921 Census Progress:

Halifax County is now complete!
Queens County is now complete!
Hants County is now complete!
Annapolis County is now complete!
Kings County is now complete!
Guysborough County is now complete!
Shelburne County is now complete!
Yarmouth County is now complete!
Digby County is now complete!
Cumberland County is now complete!
Pictou County is now complete!
Antigonish County is now complete!
Inverness County is now complete!
Victoria County is now complete!
Colchester County is now complete!
Lunenburg County is now complete!
Cape Breton County is now complete!